Welcome to Centennial PTA!
YOU'RE INVITED TO YOGA ON THE HILL!
---

---
SUPPORT CENTNNIAL ELEMENTARY AT BASKIN ROBBINS
A portion of the earnings will be donated back to support Centennial Elementary. Be sure to mention Centennial Elementary when ordering!
---
KINDERGARTEN BIG CENTERS VOLUNTEERS NEEDED

This is a fun opportunity to spend time with all the kindergarten classes as they rotate in and out of Big Centers for various crafts and projects! Click Here to volunteer today!
---
NATIONAL BIKE/WALK TO SCHOOL - OCTOBER 5TH
Walk and Bike to School Day promotes movement and exercise. Being active every day is just one way to promote healthy families.

It puts safety first! By focusing on bikers and walkers, Walk and Bike to School Day shows our cities just how important safe pedestrian pathways are.
We can't wait to see everyone joining in!!!
---
The National PTA Reflections 2022-2023 Theme is: "Show Your Voice!"
CALLING ALL COMETS! Get ready to show your artistic expression through one or more of these creative outlets:
Dance Choreography
Film Production
Literature
Music Composition
Photography
Visual Arts
Students are recognized each year for their artistic ingenuity to bring the Reflections theme to life in a personal and meaningful way. Students' work is judged at the local campus, with the opportunity to advance to Council, Texas and National PTAs.
The entry form and official rules for each category can be found on the Centennial PTA Reflections Page
Submission Deadline is November 7, 2022
---
PLANO BOND ELECTION- NOVEMBER 8TH
Plano ISD parents, faculty and staff are invited to attend a Bond election informational meeting/safety & security update on October 24th at 6:30 pm at the Renner Middle School Cafeteria for the Plano West Feeder schools including Centennial.

The Plano ISD November 8th ballot will have five propositions:
* Funding for Staff & Programs
* School Renovations & Safety
* Instructional Technology
* Event Center
* Stadium Safety & Maintenance

Learn more about the Bond Propositions here: (https://www.pisd.edu/election2022)
---
ORDER YOUR YEARBOOK TODAY!
Don't miss out on your chance to BUY your 2022-2023 yearbook!
This year we will be ordering all yearbooks via the Balfour website and will be available for $35 each.
To do so, you can scan this QR Code or click on the link here to order your yearbook!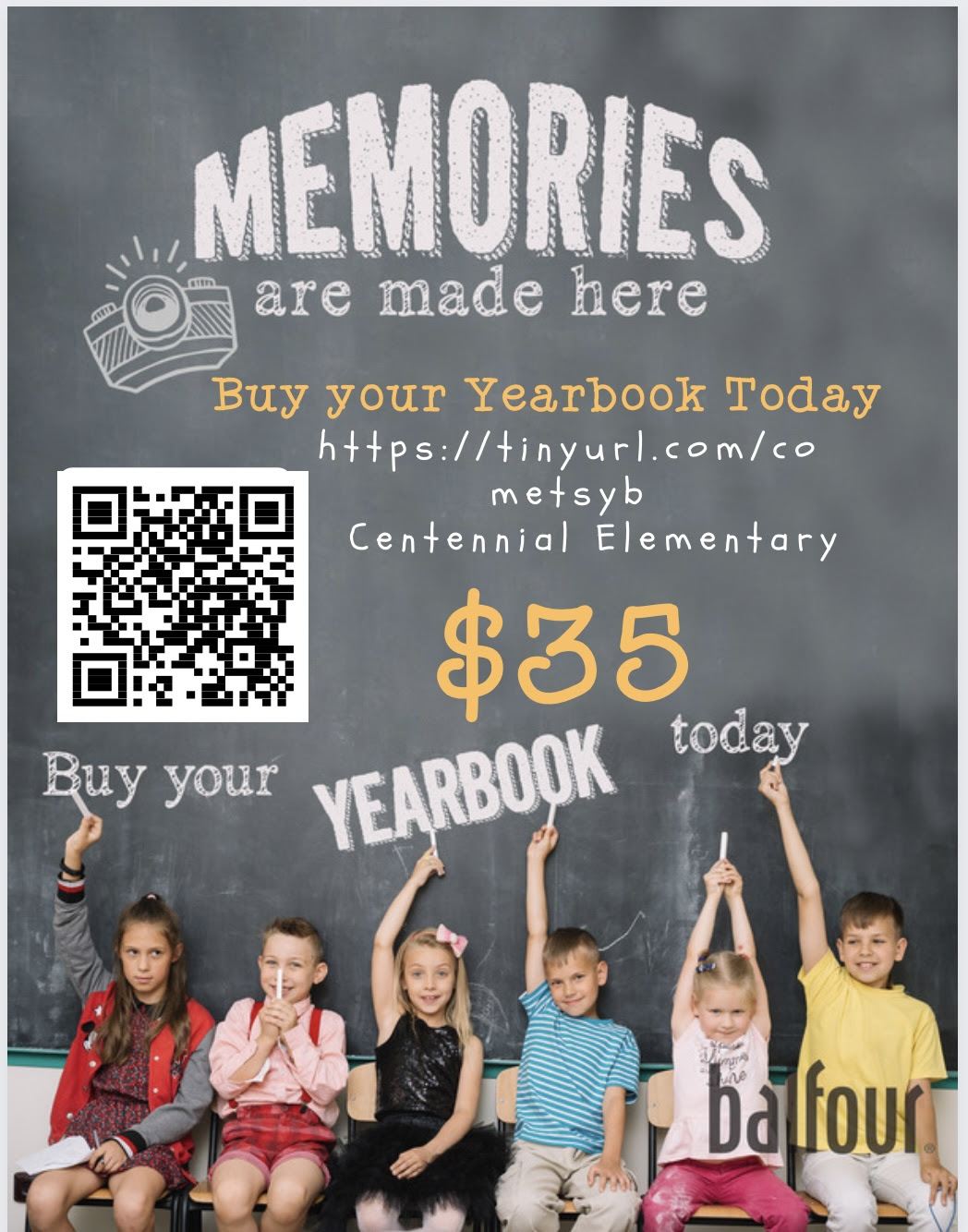 ---
ORDER YOUR 5TH GRADE AD TODAY- SPOTS ARE FILLING UP FAST!
---
2022-2023 CENTENNIAL PTA CALENDAR - NEW DATES ADDED
Upcoming Events
Sunday, October 2
Monday, October 3
Wednesday, October 5
Thursday, October 6
Monday, October 10
Tuesday, October 11
Wednesday, October 19
Monday, October 24
Tuesday, October 25
Click HERE for a complete
2022-2023 PISD calendar.
PTA Newsletter
Stay up to date with Centennial PTA events and programs by subscribing to the Comet Connection.